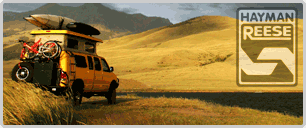 HAYMAN REESE

Towbars

Hayman Reese offer the greatest range and variances of towing solutions for the ever growing Australian market. Whether you need a towbar for your passenger vehicle, four wheel drive, van or light commercial vehicle, you can be assured that your Hayman Reese towing product has been engineered, tested and built to provide you with a lifetime of trouble free towing.

It doesn't just end with the towbar, Hayman Reese have an extensive range of weight distribution systems, sway controllers and electric brake controllers to compliment the complete towing system that takes the challenge out of towing heavy caravans, horse floats or boats.

Hayman Reese is so confident in the integrity of their towbars and weight distribution systems that they offer a lifetime warranty.